Yerevan, May 10, 2016, Armenian Press from an article entitled, "President of Israel Says It Is Impossible to Ignore the Events of 1915."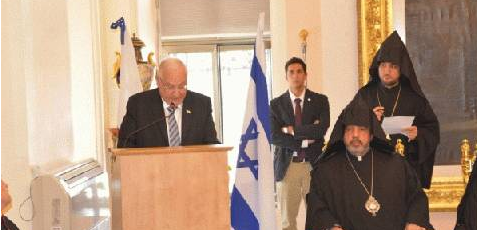 President of Israel, Reuven Rivlin visited Armenian Patriarchate of Jerusalem on May 9, 2016 to convey his greetings to the leaders of different Christian Churches located in the Holy Land. Prelates of the Dioceses of Armenia Apostolic, Greek-Orthodox and Latin Churches were present at the meeting with Reuven Rivlin at the Armenian Patriarchate.
"The Nazi regime succeeded in its plans against the Jewish people as the world kept silent and did not voice about the Armenian Genocide," Armenpress reports, citing Nouvelles d'Armenie, Nurhan Archbishop Manoogian said, hoping that Israel will recognize the Armenian Genocide during the presidency of Reuven Rivlin.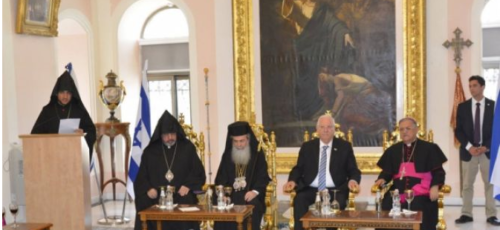 President of Israel Rivlin stated that Israel has a moral obligation to recognize the first genocide of the previous century, the Armenian Genocide, though he avoided using the term "genocide, adding that "it is impossible to ignore what happened."
"We are obliged to speak out about the facts, but not to deny them," Rivlin said.  The President of Israel congratulated the Christians on May 9 and the past Easter holidays, adding that human rights defense is a priority issue for Israel.
"Armenians were killed in 1915, and my relatives can recall thousands of Armenian refugees. No one denies in Israel that an entire nation was massacred.  Today, together with all of you, I will pray for the souls of all the victims here, in Jerusalem,in the Armenian Patriarchate," Rivlin concluded.