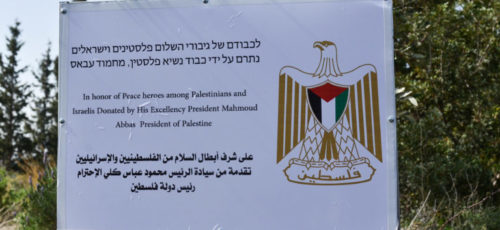 Palestinian Authority's President Abbas and Other Palestinian Leaders Joined Jewish Israelis in Memorable Planting of Olive Trees
A noteworthy event where Israelis and Palestinians celebrated together took place on February 11, 2017 in Neveh Shalom, Israel, the only shared Jewish and Palestinian community in Israel.
Mahmoud Abbas, the president of the PA, sent an olive tree to be planted at the village entrance, as well as a plaque in three languages bearing the words: "In honor of peace heroes among Palestinians and Israelis." Among those present in the Palestinian party were Ruhi Fatouh, former speaker of the Palestinian Parliament; Dr. Mohammed Odeh of the Department for External Affairs; Bishop Abdullah Yulio; Dr. Ziad Darwish, of the PA Department for Interaction with Israeli society; Dr. Anwar Abu Eyasheh, former Minister of Culture and currently professor of law at Al-Quds University. Also attending was the Ambassador of the European Union, Lars Faaborg-Andersen and others.
This special project was initiated by Prof. Yair Auron who worked closely with Ziad Davish of the PA. Auron is a well-known genocide scholar who is the Associate Director of the Institute on the Holocaust and Genocide Jerusalem. He is currently working on a book on the rescuers in the Hebron massacre of 1929, including Palestinian individuals who risked their lives to save their Jewish neighbors who were facing the threat of being killed and the stories of Jews who risked their lives for Palestinians who were also facing grave danger.
Thus far, in Auron's words, "unfortunately and shamefully," Israeli media, in Hebrew and English, that were sent information on this unique cooperative event between Israelis and Palestinians have failed to provide any coverage.
Auron comments further: "I believe that frequent interactions and cooperation between Palestinians and Israelis is a necessity if we truly hope to achieve lasting peace one day. Unfortunately, I do not believe that in the near future the political leaders of both people will have the courage and integrity to achieve a two state solution. Without real human relationships and mutual respect and trust between both sides, peace will not exist."
Accompanying entertainment was provided by world-famous Israeli singer, Achinoam Nini who sang two songs, one by the Lebanese singer Fairuz which she sang in Arabic, and a song she had composed and sung together with Palestinian singer Mira Awad at the Eurovision song contest.