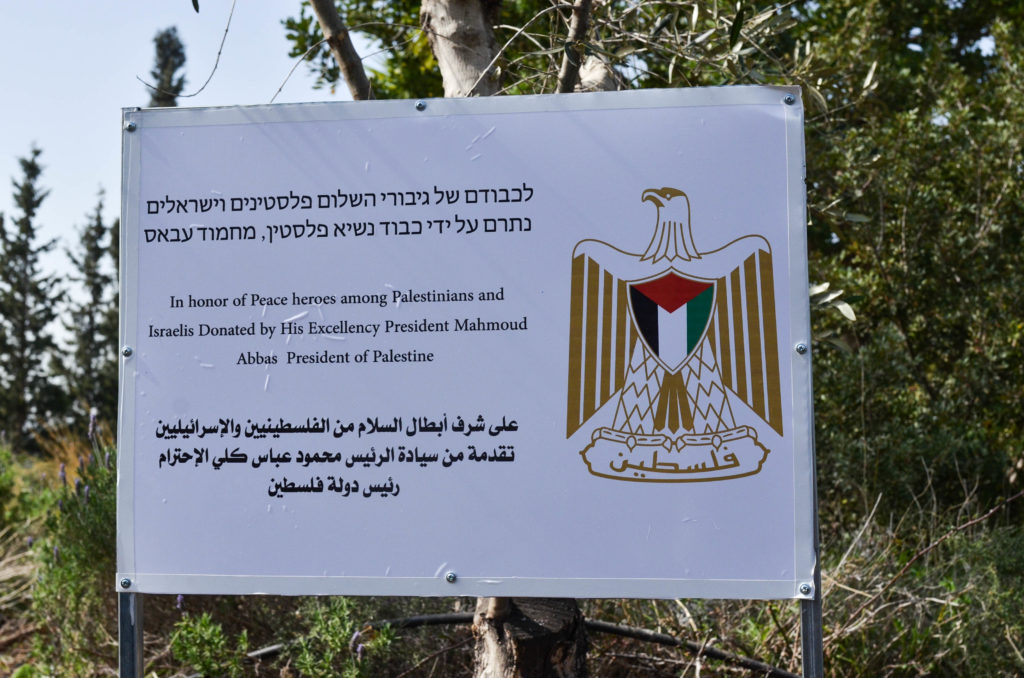 UNIQUE COOPERATIVE PLANTING BY ISRAELIS AND PALESTINIANS
Palestinian Authority's President Abbas and Other Palestinian Leaders Joined Jewish Israelis in Memorable Planting of Olive Trees
A noteworthy event where Israelis and Palestinians celebrated together took place on February 11, 2017 in Neveh Shalom, Israel, the only shared Jewish and Palestinian community in Israel.
Mahmoud Abbas, the president of the PA, sent an olive tree to be planted at the village entrance, as well as a plaque in three languages bearing the words: "In honor of peace heroes among Palestinians and Israelis." Among those present in the Palestinian party were Ruhi Fatouh, former speaker of the Palestinian Parliament; Dr. Mohammed Odeh of the Department for External Affairs; Bishop Abdullah Yulio; Dr. Ziad Darwish, of the PA Department for Interaction with Israeli society; Dr. Anwar Abu Eyasheh, former Minister of Culture and currently professor of law at Al-Quds University. Also attending was the Ambassador of the European Union, Lars Faaborg-Andersen and others.
This special project was initiated by Prof. Yair Auron who worked closely with Ziad Davish of the PA. Auron is a well-known genocide scholar who is the Associate Director of the Institute on the Holocaust and Genocide Jerusalem. He is currently working on a book on the rescuers in the Hebron massacre of 1929, including Palestinian individuals who risked their lives to save their Jewish neighbors who were facing the threat of being killed and the stories of Jews who risked their lives for Palestinians who were also facing grave danger.
Thus far, in Auron's words, "unfortunately and shamefully," Israeli media, in Hebrew and English, that were sent information on this unique cooperative event between Israelis and Palestinians have failed to provide any coverage.
Auron comments further: "I believe that frequent interactions and cooperation between Palestinians and Israelis is a necessity if we truly hope to achieve lasting peace one day. Unfortunately, I do not believe that in the near future the political leaders of both people will have the courage and integrity to achieve a two state solution. Without real human relationships and mutual respect and trust between both sides, peace will not exist."
Accompanying entertainment was provided by world-famous Israeli singer, Achinoam Nini who sang two songs, one by the Lebanese singer Fairuz which she sang in Arabic, and a song she had composed and sung together with Palestinian singer Mira Awad at the Eurovision song contest.
Forthcoming
To be published by Lexington Books, approximately April 2017: A Democratic Mind: Psychology and Psychiatry with Fewer Meds and More Soul.
To be published by Lexington Books, approximately July 2017: Psychotherapy for a Democratic Mind: Intimacy, Tragedy, Violence and Evil
COVER BLURBS A DEMOCRATIC MIND
Groundbreaking
"The argument for freedom of thought in our work and in our lives is emblazoned in this groundbreaking book for our times. A Democratic Mind marshals cogent arguments against the social and psychotherapeutic trends toward the surrender to imposed constraints on thought and action, and toward the suggestion that rule-bound ideas of mental health and illness will suffice. If you long for a unifying call for freedom of thought, read this book!"—David E. Scharff, MD, International Psychotherapy Institute and the IPA Committee on Family and Couple Psychoanalysis.
Compelling
"This compelling book held my interest throughout. It is written by a man who loves life and speaks with candor, clarity, and courage. A Democratic Mind is a critical exploration of the limits of contemporary psychotherapy, and a passionate plea to expand its agenda to not only treat the individual, but also the impact that he/she has on his/her family, community, and world. Israel Charny stresses the necessity of cultivating open, compassionate, and engaged people who embrace life. Charny's writing is lucid and interesting; his work is passionate and lively."—Michael Berenbaum, PhD, American Jewish University
Empowering
"The release of A Democratic Mind could not be at a better time, as the world contends with polarizing forces that pit tribal populism against global democratic principles. Israel W. Charny offers a metaphor of the 'Fascist versus Democratic Mind' as a new framework with which to understand symptoms and direct treatment. Like Albert Bandura's Moral Disengagement, Charny offers readers an approach to assessment and psychotherapy that is firmly grounded in democratic, life-affirming values, and that emphasizes the choice between good and evil. He expands assessment of the rigid, fascist mind—how we humans hurt ourselves—to how we also hurt others. The addition of these relational considerations is critical for a full understanding of the human condition. To be mentally healthy in the twenty-first century is to cultivate calm in the midst of uncertainty, to embrace and learn from diversity, and to hold our own and others' behaviors accountable as life-affirming. Charny offers an empowering and integrative psychotherapy to achieve these goals. We need this approach now more than ever." —Susan McDaniel, University of Rochester Medical Center; Past President, American Psychological Association
Fascinating
From the Foreword to the book by Allen Frances, MD, Editor of DSM IV:
"This is a fascinating book, expressing noble aims. Charny's premise is that our species is limited by a fairly primitive mental apparatus that needs a "software upgrade" to provide us with the tools to live more at peace with ourselves and with each other. Diagnosis and treatment must also extend beyond the individual to encompass relational problems at the family and societal level. We must not be satisfied with treating pathology; instead, we must strive to create goodness where once there was evil. Would it were possible, but I fear it isn't. I believe in human happiness, but not in human perfectibility. Let the reader decide between my skeptical reservations and Dr. Charny's hopes. I hope he is right."
COVER BLURBS PSYCHOTHERAPY FOR A DEMOCRATIC MIND
Captivating
"Israel W. Charny provides a captivating journey exploring a framework for therapy that charts a course for today's and tomorrow's mental health professionals. Charny's therapeutic wisdom and existential insight into the human condition, combined with his pioneering work on the Holocaust and genocide studies, informs his courageous approach to perplexing issues. He provides essential truths, including a prescription for therapists and patients alike, to achieve a 'free mind' that does no harm to one's own life or that of others. This book provides approaches to diagnosis and therapy that must be studied, savored, and implemented."—Robert Krell, MD University of British Columbia
Original
"This is one of the most original psychotherapy books I have ever read. Israel W. Charny does not flinch when describing evil in the human experience. He calls on therapists to see psychological health as inclusive of how personal behavior affects the well-being of others, and to make the connection between political democracy and democracy in the mind and heart. There is an ethical consciousness at work on every page, which is much needed in today's world." Bill Doherty, PhD, Family Social Science, University of Minnesota
Creative
"Psychotherapy for a Democratic Mind presents a creative focusing of Israel W. Charny's general concept of democratic and fascistic minds to a crucial field of application. An unusual blend of material from clinical psychology, personality theory, and political psychology, its core terms symbolize broad personality types. The result is a set of novel and thought-provoking ideas for clinical theory, diagnosis, and treatment."—Peter Suedfeld, PhD, University of British Columbia
Brilliant
Response to Rap Poem-Like Closing Chapter, "Author's Voice: What Is Going to Happen to All of Us? What Can I Do in MY Time?"
"Psychotherapy for A Democratic Mind concludes with a brilliant summation of an extraordinary life spent grappling with the human condition. Truth is in essence dialectical, and this book is a twenty-first century embodiment of the rabbinic concept of "yetzer hara/yetzer tov" (in Hebrew: the good impulse and the bad impulse). Israel Charny offers a profound understanding of the human story. There is so much substance, depth, and truth in Charny's life perspective." — Samuel Karff, Temple Beth Israel, Houston and University of Texas Medical School
Wonderful
From the Foreword to the book by Douglas Sprenkle, Ph.D., Former Editor of the Journal of Marriage and Family Therapy
"This is a wonderful book. It is the most provocative—very much in a positive sense– book I have read on psychotherapy in the past decade. All of the chapters are enlivened with case studies that reflect the author's exceptional wisdom, sensitivity, and courage. It is rare to read a book that offers a synergy of theory, research, and practice in a way that is so scholarly, compelling, and practical. I felt that it was a privilege to be drawn into the consulting room of a master clinician who handles very difficult cases with such sensitivity and brutal honesty."
R2L RIGHT TO LIFE
NEWS RELEASE by the Institute on the Holocaust and Genocide in Jerusalem
A new world organization by the name of R 2 L -RIGHT TO LIFE has been proposed by the Genocide Recognition Network in Athens.  The Network represents three ethnic organizations of peoples, each of whom has suffered genocide in its history, the Pan-Pontian Federation of Greece, Armenian National Committee, and PanHellenic Union of the Assyrians.
Meeting in Athens to honor the United Nations Declaration of December 9 as a day of remembrance of the victims of all genocides, the Network passed a resolution to create an "International Association of Nations, themselves victims of Genocide, as well as those who have a consideration for the human right to life."
On December 9, the day after the conference which is officially the UN "International Day of Commemoration and Dignity of the Victims of the Crime of Genocide and of the Prevention of this Crime," a five-member delegation visited the Parliament House in Athens in order to deliver the resolution.  The delegation included the prior mentioned three groups, and the President of the Pan-Macedonian Confederation of Greece, and a representative of the Federation of Greek Refugee Associations.
The proposal to create "R 2 L – RIGHT TO LIFE" as a "Worldwide Union of Genocide Victim Peoples – and all Caring People – on behalf of the Right to Life of All People" was originally developed by Israeli-American genocide scholar, Israel W. Charny, director of the Institute on the Holocaust and Genocide in Jerusalem.  This proposal was also presented originally in Athens in 2010 to an international conference which was devoted to respecting the co-victimhood of Greek, Armenian, and Assyrian peoples in what is generally known to us as the "Armenian Genocide." Since then the proposal has also been delivered in talks in Armenia and in Israel, and was published in several publications.
The Network has advised Charny that they would like him to be a counselor to the project in the event that they will have the means to activate the world organization, a decision that will be made in the next few months.  Furthermore, the stated hope of the Genocide Recognition Network is that if Greece proves unable to undertake the initiative by itself that it will be implemented by an international group such as the International Association of Genocide Scholars.
RESOLUTION OF THE GENOCIDE RECOGNITION NETWORK (GREECE)

December 8, 2016
All of us who gathered here today, on Thursday the 8th of December 2016, at the Cultural Center of Athens, responding to the invitation of the Genocide Recognition Network, seizing the opportunity of the UN introduction of the 9th of December as the day of remembrance of the victims of Genocide, state that:
– We bow down before all of the world's nations who have suffered the crime of Genocide, and are assuring toward every direction that we will continue the struggle both for the international recognition of the Genocides which were carried out in the past, as well as the prevention of any others in the future. A fight which the great humanist Raphael Lemkin has initiated, and which we proclaim "Just" for the Greeks, the Armenians and the Assyrians.
– We demand from the Greek Parliament to proceed toward the recognition of the Genocide suffered by the Assyrians, following the recognition of the Genocides imposed upon other Christian nations of the East, which eventuated within the same context, by the same perpetrator in the early 20th century, as well as the Genocide suffered by the Yazidi from the Daesh terrorist organization, held in Syria and Iraq nowadays.
– We demand from the Local government administration to proceed with the erection of monuments in central points of Greek cities, regarding the Genocide imposed upon the Christian nations of the East.
– Finally we recommend to the International Association of Genocide Scholars (I.A.G.S) and to other relevant organizations, to proceed with the establishment of a body with the symbolic name: R 2 L (Rıght to Lıfe), which would constitute an international association of nations, themselves victims of Genocide, as well as those who have a consideration for the human right to life.
– Our motto for the struggle toward the recognition of the Genocide of the Christians of the East, (Greeks, Armenians, Assyrians) is as follows:
One Genocide, One Strategy, One Monument, One Battle, One Recognition.
for the Genocide Recognition Network: DR PAVLIDIS ANTONIOS for the Armenian National Committee:KOUGIOUMTZIAN SERKO
for the Pan-Pontian Federation of Greece: SOTIRIADOU ATHENA
for the Panhellenic Union of the Assyrians: BATSARAS KYRIAKOS
-English translation by Athina Kehagias
The proposal for a "Worldwide Union of Genocide Victim Peoples – and All Caring People – On Behalf of a Right to Life of All People (R2L)" was originally developed by Israel W. Charny and was presented at an International Conference "Three Genocides, One Strategy," in Athens in September, 2010.
UPROAR OVER STUDY OF BIAS IN ARTICLES IN THE JOURNAL OF GENOCIDE RESEARCH (JGR): BOTH JGR AND GENOCIDE STUDIES AND PREVENTION (GSP) HAVE DECLINED TO PUBLISH A REJOINDER TO THE CRITIQUE OF THE STUDY
See GENOCIDE DENIAL for the unfolding of this controversy including the original professional article published in the Journal for the Study of Antisemitism; a magazine article summarizing the study published in the Jerusalem Post and three Letters to the Editor – including one critical response by prominent scholars; a major critique by the editor of JGR and four other authors whose works were reviewed in the study in Genocide Studies and Prevention; a rejoinder to the above critique by the author of the study; and a report of a new supplementary study of students in the United States.
Text of Israel Charny's Request to Publish a Rejoinder in GSP
Dear Dr. Gudehus and others on the Editorial Board of Genocide Studies and Prevention,
I am going to be thanking the authors of the extensive critique of my study that you feature in the current issue of GSP, so that by definition I am also expressing my thanks to you for publishing it.  I most certainly welcome far more extensive knowledge of the study and full discussion of its meanings which I believe are of great significance for all of us in the field of genocide studies.
However, I am at a loss – and I confess somewhat shocked – at the fact that you chose not to advise me of this forthcoming article and did not give me the opportunity to write a response.
Clearly, I would like to prepare such a response for the next issue of GSP. When will that be?  We will want to mount this response in advance on our Institute website, but the readership there is limited and there is a good deal of meaning to the response being published in the same journal which featured the critique.
Best,
Israel Charny
Answer from GSP Dismissing Request for a Rejoinder
Dear Prof. Charny,
Yesterday at the GSP editorial board meeting we discussed your wish to publish a reaction to the article by Goldberg, et al that was published in Issue 10.2. That article was written in response to an article by you, in which some authors, as well as the editors of the Journal for Genocide Research were criticized. The GSP Editorial board has decided to provide them the opportunity in an academic environment to publicly deal with the allegations made in your publication. We, therefore consider the matter to be concluded and will have no further articles or comments on this matter published in GSP. You are, of course, free to submit an article through our online system that will treated in the same way as all other submissions to GSP.
Kind regards,
Dr. Christian Gudehus
2016 Spirituality and Practice Book Award Winner

NEW BOOK BY ISRAEL W. CHARNY: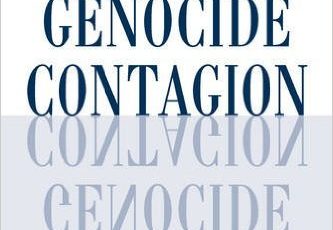 The Genocide Contagion: How We Commit and Confront Holocaust and Genocide
The book has been adopted as a textbook at the University of Johannesburg in South Africa.
The instructor writes: The text is highly informative. Chapters 1, 2, 3 and 7 and also the Learning Exercises will be the key text of the course. This book leads the reader to think about their own contexts, especially those of us who come from regions where there are official silences on genocide for political expediency and fear of truth. The book will definitely go a long way in making us think about genocide, the more so when people are asked to think and act as this book recommends.
A new Amazon review will also be of interest:
The Genocide Contagion by Israel Charney charts the psychological journey of "regular" people who become murderers – even mass murderers, responsible for the deaths of millions of innocent people.
It is a fascinating study that led me to me better understand the psychological mechanisms and processes that can lead to total evil.
To the considerable scientific and political evidence the author presents, he also brings his extensive knowledge and experience as a clinical psychologist and family therapist. The result is fascinating.
The book is well-written and kept me riveted from beginning to end. I particularly appreciated how the author is personally present in the book as a human being and not as someone who is above the human condition. The book has provided me with many new insights and considerable food for thought.
If you are interested in seeing this book for possible adoption for courses on Holocaust and Genocide, please contact the publisher, Rowman & Littlefield, Att: Carli Hansen, chansen(at)rowman.com. Please also send a copy of the request you make to the publisher to me at encygeno(at)gmail.com.
Charny, Israel W. (2016). The Genocide Contagion: How: We Commit & Confront Genocide — "a book for learning about ourselves BEFORE!"
Click here for reviews, discount order form for a 30% reduction in price and table of contents.
Click here to purchase the book from Amazon.com
New Books by Yair Auron: Auron, Yair.  "Whoever Saves a Life… The Banality of Compassion: The Story of the Circassia Muslim Village in the Caucasus Who Saved Jewish Children During the Holocaust and its Significance, Resling Publishing House, (Tel Aviv, Hebrew). English edition in preparation.

אורון, יאיר (2016).הבנאליות של החמלה: על הצלת ילידים יהודים בכפר הצ'ירקסי-מוסלמי בסלניי שבקווקז ב-1942
תל אביב: רסלינג

Rescuers (Righteous) and Warriors: The Aznavour Family and the "Red Poster" in Occupied Paris by the Nazi Army. Published by aznavour.book@gmail.com.(Hebrew). English edition in preparation.

אורון, יאיר (2016) (מצילימ (צדיקים) ולוחמים: משפחת אזנבור ו "המודעה האדומה" בפריס הכבושה על-ידי הצבא הנאצי
Publication of Worksheet for Describing and Categorizing a Genocidal Event in the journal, Social Sciences.
Charny, Israel W. (July 19, 2016).  Worksheet for Describing and Categorizing a Genocidal Event: A New Tool for Assembling More Objective Data and Classifying Events of Mass Killing. Social Sciences, 5(3), 31.
For the pdf version, click here.
For the pdf of the Worksheet Chart for Describing and Categorizing a Genocidal Event, click here.